About Lancaster EMS
Our Mission
Provide comprehensive, skillful, cost effective emergency and non-emergency health care services to the Lancaster community while continuing to evolve with changing health care needs.
Our Values
Commitment
We are dedicated to treating illness and injury in the Lancaster community utilizing up-to-date principles and practices of modern emergency medical services.
Respect
We set a personal example of trust and fairness by recognizing the dignity of others.
Integrity
We serve with personal and organizational honesty, ethics, loyalty and dedication.
Accountability
We are responsible as professionals for our actions.
Teamwork
We practice teamwork through skilled communication and personal cooperation to achieve our common goal.
Service
We strive for excellence in the service we deliver through ongoing evaluation and improvement.
Fair Treatment
We do not discriminate as an employer or provider of pre-hospital health care services due to race, religion, gender, ethnicity, sexual orientation, culture or disability.
---
CAAS Accredited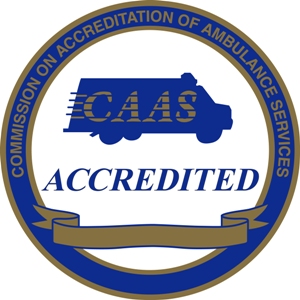 Lancaster EMS has received reaccreditation from the Commission on Accreditation of Ambulance Services (CAAS) for its compliance with national standards of excellence. The original accreditation was obtained in 2005. Lancaster EMS is the only ambulance service in Lancaster County to successfully achieve this accomplishment after the voluntary review process. This review includes completion of a comprehensive application and on-site review by national experts in emergency medical services (EMS). With this achievement, Lancaster EMS becomes only one of six ambulance services to be accredited in the state of Pennsylvania; and only one of just over one hundred in the United States.
CAAS is a non-profit organization which was established to encourage and promote quality patient care in America's medical transportation system. The primary focus of the CAAS standards is high-quality patient care. This is accomplished by establishing national standards which address the delivery of patient care, the ambulance service's total operation and its relationship with other agencies, the general public, and the medical community. CAAS standards often exceed state or local licensing requirements. Accreditation is renewed every three years.
"Accreditation represents our firm commitment to our patients and to our community. We continuously strive to do our very best and we view accreditation as another step toward excellence."
"Our staff has been key to our success in achieving reaccreditation. I believe that it provides the sense of prestige and pride to work for an accredited ambulance service provider. Everyone at Lancaster EMS played a valuable role in our ability to meet the Commission's high standards. We have achieved accreditation but I believe it can only be a stimulus for continued improvement."
C. Robert May, Executive Director
Lancaster EMS renewed its CAAS accreditation in February 2022.
The Busiest EMS Agency in Lancaster County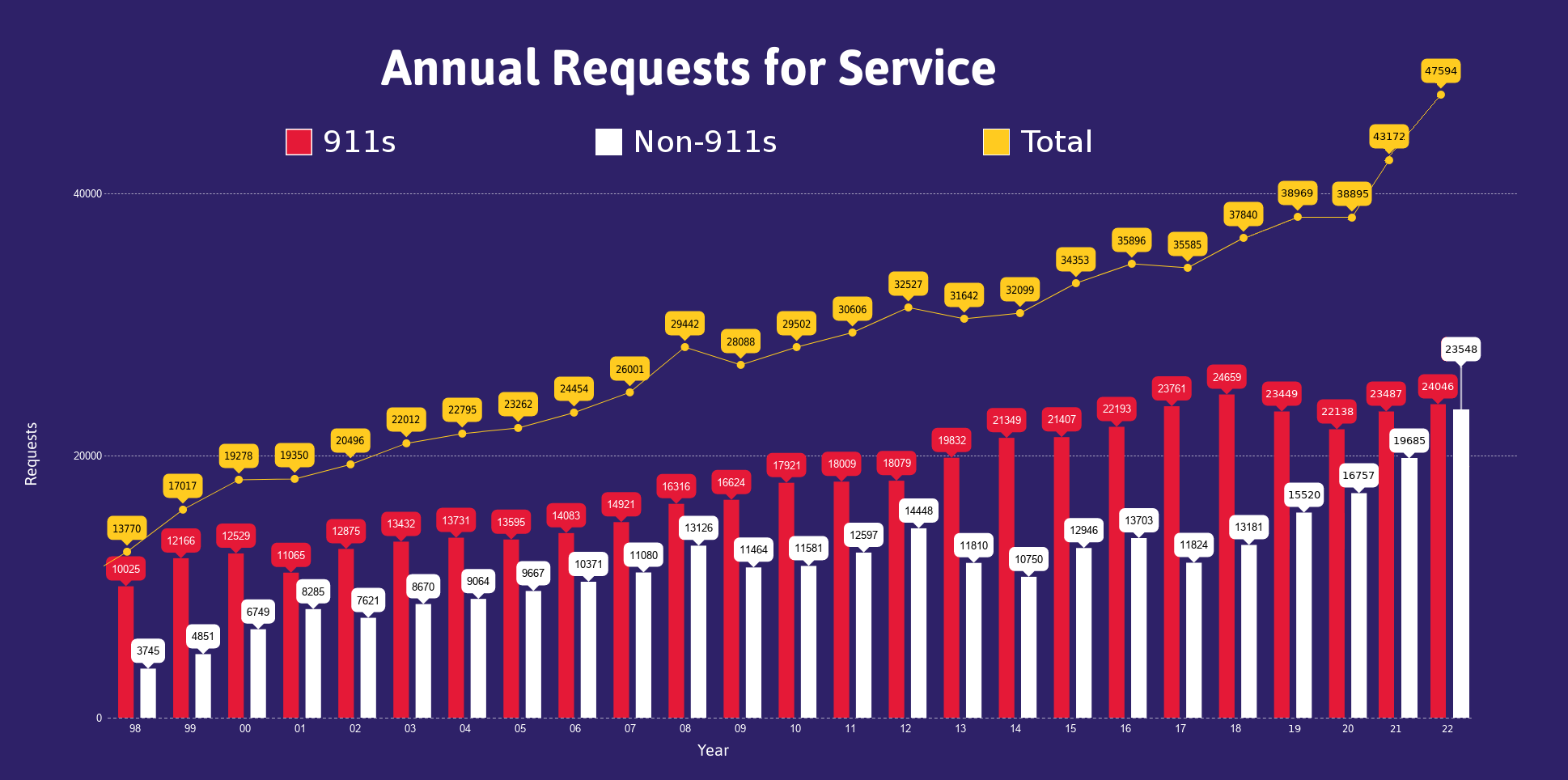 Click here to see full-sized image
1997 was our first full year of operations. Our first day of operations was April 26, 1996.
Our History
On February 27, 1996, Lancaster EMS (also known as 'LEMSA') was incorporated as a nonprofit 501 (c) (3) emergency medical services association. This was the result of a consolidation between the Advanced Life Support (ALS) of St. Joseph Hospital, which originally launched into operation in 1972, and those of Community Hospital of Lancaster, whose pre-hospital ALS service originated in 1977.
At 0700 hours on April 28th, 1996, the new entity became operational. This new service was responsible for providing 9-1-1 ALS service to eighteen municipalities across Lancaster County. To do this, Lancaster EMS operated ALS units at five separate sites. Additionally, Lancaster EMS leased EMS personnel to multiple independent EMS agencies to assist with staffing needs.
One of the agencies leasing personnel from Lancaster EMS was the East Lampeter Ambulance Association. This ambulance company, which had been serving its area since August of 1948, merged into Lancaster EMS in November of 1997, the first BLS agency to do so. As a result, Lancaster EMS's role was now expanded to encompass all aspects of EMS response in the area previously served by the East Lampeter Ambulance Association. This move led to a period of rapid growth and development for our organization.
One of the areas in which Lancaster EMS soon experienced the greatest growth was that of non-emergency transport. Initially, launched in May of 1997, this service built slowly at first but began a dramatic upswing in the spring of 1998. As a result, our first non emergency vehicle was added in August 1998. Simultaneously, service hours were increased for both BLS and ALS units in response to the increased demand.
The next great milestone was then reached on January 24th, 1999. On this date, the prehospital services of Lancaster General Hospital, an ALS EMS service dating back to 1973, merged into Lancaster EMS. This was finalized by LGH becoming a member organization of Lancaster EMS on March 26, 1999, and marked the first major cooperative effort between three competing Lancaster City hospitals.
On October 9, 1999, a fifth organization became part of Lancaster EMS-the West End Ambulance Association (WEAA). WEAA began serving Millersville Borough, Manor Township, and portions of Lancaster City with excellence since 1973.
Then on October 1, 2001, the Strasburg Community Ambulance Association, incorporated in 1948, merged into Lancaster EMS. At the time of the merger, Lancaster EMS transitioned the Strasburg operation to a 24/7 ALS service. Prior to this merger, Strasburg Community Ambulance Association operated as a BLS service.
The most recent merger occurred on August 1, 2012, when the Providence Township Ambulance Service joined its BLS operations into Lancaster EMS. This merger resulted in a care upgrade to 24/7 Advanced Life Support services based in New Providence, PA.
Lancaster EMS is one the largest, most unique nonprofit EMS organizations in the State, serving all or portions of 21 municipalities (260,000 community members) in Lancaster County.
---