Duty Supervisors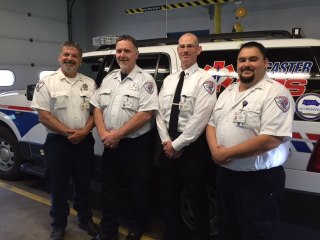 Our Duty Supervisors ("Medic 100") hold the position of Captain with in the organization's rank structure. These individuals are all well-experienced, proficient, ALS providers who have demonstrated strong leadership abilities.
The Captains are responsible for a wide array of daily duties, such as system status management, clinical support for field providers on serious incidents, ALS intercept with BLS units requesting a paramedic assist, accident and injury investigation, EMS command functions on unified command events, administrative duties, and various other assignments and projects. Captains also serve as adjunct instructors for Lancaster EMS' EMT and Paramedic programs, while also serving as a mentor and Field Training Officer (FTO) for our newer providers.
All clinical providers and wheelchair van attendants are divided into four Platoons. Each Platoon is assigned to a Captain. The Captains are responsible for administering the regular performance appraisals to each member of their Platoon
Director of Operations - Ted Goldman
Platoon 1 (Days) – Captain Carr
Platoon 2 (Days) – Captain Hinkle
Platoon A (Nights) – Captain Schramm
Platoon B (Nights) – Captain Arntz
The Medic 100 vehicle is a 2009 Chevy Yukon outfitted with 4-wheel drive and multiple specialized modifications. With ALS equipment, specialized patient extrication devices, and the ability to operate an EMS Command post from the vehicle, it is truly a unique vehicle, allowing the Captains to perform their duties more effectively.