Duty Supervisors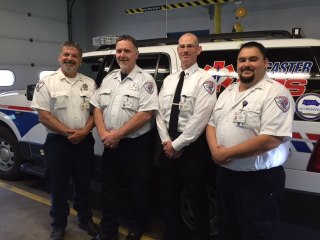 The front-line leadership of Lancaster EMS are the Duty Officers, recognized with the unit designator "Medic 600". The "Medic 600" team is comprised of 4 Captains and 4 Lieutenants. Each officer is an experienced, proficient, clinically sound paramedic who possesses equally strong leadership ability.
Lieutenants are the first tier of leadership in the organizational rank structure. System status oversight is a Lieutenant's primary responsibility when operating as M600. A Lieutenant is also assigned a small amount of administrative duties. Lieutenants and Captains alike are tasked with the responsibility of managing the busiest emergency medical service in Lancaster County. With a daily call volume that can exceed over 100 incidents a day, the Lieutenant and Captain are required to manage a team of ALS, BLS, and wheelchair van resources to meet both the emergent and non-emergent system demands. Lieutenants and Captains will fulfill incident command roles on large scale events, provide clinical support on serious or complicated incidents, function as an ALS intercept service when needed, supplement staffing vacancies as required, complete accident and injury investigations, and various incidental duties.
In addition to shared responsibilities with the Lieutenant, Captains are responsible for increased administrative functions within the organization. Annual employee performance appraisals, tracking educational requirements, maintaining vehicle licensure, medication and supply oversight, managing new hires and the organization Field Training Program, Policy and SOG revision, and oversight of select projects, are a few examples of the additional duties assigned to the Captains.
All clinical providers and wheelchair van attendants are divided into four platoons. A Captain and Lieutenant oversee each platoon. The platoon officers are responsible for the administrative oversight of those employees within their platoon, including annual performance appraisals, remedial training, and mentoring, to name a few.
Platoon 1 (Days)—Captain Carr/Lieutenant Hedgepeth
Platoon 2 (Days)—Captain Snowberger/Lieutenant Heagy
Platoon A (Nights)—Captain Schramm/Lieutenant Hartmann
Platoon B (Nights)—Captain Arntz/Lieutenant Amick
The Medic 600 vehicle is a 2009 Chevy Yukon outfitted with 4-wheel drive and multiple specialized modifications. With ALS equipment, specialized patient extrication devices, and the ability to operate an EMS Command post from the vehicle, it is truly a unique vehicle, allowing the Captains to perform their duties more effectively.