Community
June 5th 2011: Doctor turns park into CPR classroom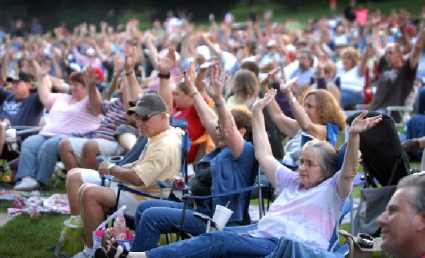 Thousands of concertgoers at Long's Park Sunday night get a quick lesson in how to perform CPR.
By TOM KNAPP
Staff Writer for the Intelligencer Journal

In less than four minutes Sunday, nearly 4,000 people learned how to perform CPR.

"I remember my first CPR class. It was four hours long," said Michael Reihart, medical director for the Lancaster Emergency Medical Services Association and associate medical director of pre-hospital services at Lancaster General. "It was crazy ... and I still don't remember it."

Reihart had a captive audience at 7:30 p.m. Sunday. With Ronnie Earl and the Broadcasters poised to take the stage at Long's Park Amphitheater, Reihart and a pair of EMTs opened the show with a few words about CPR.
Click here to read the full story.
Tornado Saftey FAQ
Click here to download this helpful guide on how to stay safe during a tornado.
March 10th 2011: Lancaster EMS donates AED to Victory Church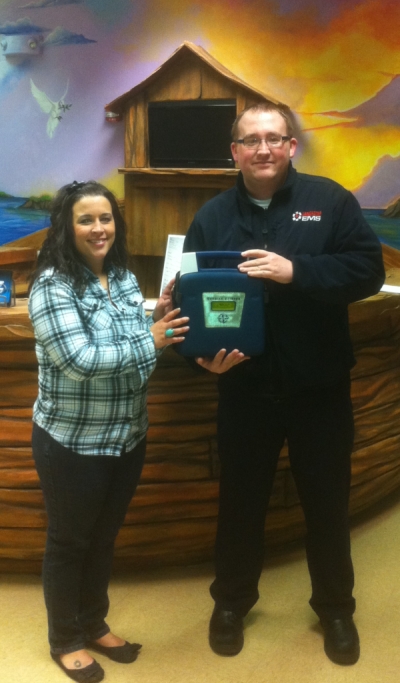 Announcement: Lancaster EMS and FM97 launch the first "Warm up Lancaster" coat and blanket drive.
Lancaster EMS and FM97 WLAN are teaming up with the Lancaster community to collect items for our neighbors in need just ahead of the winter season. Donations of collected items will be made to homeless shelters and churches in the region to help their causes. Interested in helping support the program? Visit one of our donation point ambulances on November 20th, 2010. Just remember, we are looking for new or gently used items like blankets, coats, scarves, gloves, and other similar items.
Wal-Mart, Lincoln Highway in East Lampeter from 8:00 am to 6:00 pm
Stauffers, Rohrerstown from 10:00am to 12:00pm
Red Rose Commons, Fruitville Pike in Lancaster City 12:00pm to 6:00pm
Check your closets. Help Lancaster EMS help others!

Announcement: Lancaster EMS Community Outreach Committee formed.
In August 2010, Lancaster EMS formed a Community Outreach committee under the guidance of Chief Operations Officer Ted Goldman. This group was established to facilitate several key goals of the organization, such as continuing to be a socially conscious member of the community, to be advocates in the improvement of health and wellness in the region, and improving patient education in the interest of reducing injuries before they occur. "If we can improve patient education in specific key areas, we can reduce injuries in our community, which is everyone's overall goal. Conducting seat belt education, bike helmet checks, and teaching our older population how to avoid falls is vital" said Zac Hartman, Paramedic and Outreach Committee member. Additionally, Lancaster EMS is using the Outreach Committee to conduct some of its socially-conscious projects in the community, such as blanket and coat drives, providing warm meals to local shelters, and participating in cancer walks and other community fundraisers.
Keep an eye on this website for information about the latest projects from the Outreach Team!

Lancaster EMS Medical Director warns the local community and world about new alcoholic beverage
Recently, local physician and Lancaster EMS Medical Director Michael Reihart has given a number of interviews regarding the dangerous alcoholic beverage "4loko". In a recent statement to the NY times, Dr. Reihart said, "[4loko is] a recipe for disaster because your body's natural defense is to get sleepy and not want to drink, but in this case you're tricking the body with the caffeine."
http://www.nytimes.com/2010/10/27/us/27drink.html http://articles.lancasteronline.com/local/4/298250

Lancaster EMS encourages the public to learn CPR - James Weber, Outreach Team Leader
By the end of 2010, 325,000 people will have died from Sudden Cardiac Arrest. This is more than the number of people who die from AIDS, Alzheimer's, assault with firearms, breast cancer, colon cancer, fires, motor vehicle accidents, prostate cancer, and suicide per year combined. It is a disease which strikes suddenly and nationally and has a 93% mortality rate. It happens to all sorts of people in society, from the very young to the very old.
First, we should define the difference between Sudden Cardiac Arrest (SCA), and a heart attack, as it's a common misconception that SCA and heart attack mean the same thing. In reality, they are quite different. Understanding the difference could save your life-or the life of someone you love.
A heart attack is when you are awake and breathing. It's a problem with the plumbing inside your heart and many times causes symptoms like chest pain, heavy sweating, nausea, and trouble breathing. While life threatening, it is profoundly different from Sudden Cardiac Arrest, which causes a patient's heart to stop beating and lungs to stop breathing.
While Emergency Medical Services have had great success resuscitating people who have suffered heart attacks, EMS certainly has its limitations in the treatment of SCA. Time and distance play huge roles in deciding if people can be resuscitated from SCA and EMS certainly cannot be everywhere.
However, without the public's support, we will never perfect our ability to save lives.
In order to form a strong system to save lives from SCA, local EMS, police departments, and the public must band together effectively. No matter what, Lancaster EMS will continue to provide the highest quality paramedic level medical care in the region. But to be as effective as possible in resuscitating people strickem by this terrible disease, we need your help. We have to do our best to quickly identify people have gone into Sudden Cardiac Arrest. Time is a vitally important aspect in treating the disease.
Just remember, if you come across anyone who is unresponsive and is not breathing normally, you should assume they are in cardiac arrest. It is vital that they receive immediate medical attention and 911 should be dialed without delay. Additionally, these patients need immediate lifesaving CPR and defibrillation if available. We urge you to please consider becoming trained in CPR and the use of a defibrillator. These training programs are both simple and fun, and are vitally important. You can go by yourself, take your family, or host a training program in your workplace. Become our partner and help save lives in our community.